Apply Now
---
---
Position: Chief of Police
Under guidance from the Tribal Administrator and Tribal Police Commissioner, the Chief of Police performs assigned administrative duties; patrols assigned areas; responds to calls for service or observed violations; enforces public safety laws, regulations and ordinances; assists and directs the activities of subordinate officers and staff; performs special detail work as needed; and, performs related responsibilities as required.
---
More Info
---
Position: Program Evaluation & Quality Improvement Coordinator
Department: The Program Evaluation & Quality Improvement Coordinator works with our organization's departments to develop sustainable and effective programs all within a context of the Tribe's priorities to enhance sovereignty, revitalize cultural traditions, and practice sound, environmentally responsible economic and community development. A Program Evaluation & Quality Improvement Coordinator must be familiar with outcome-based research, and is expected to become increasingly involved in applying knowledge of program evaluation, quality improvement, and statistical methods to new and existing Tribal programs. The evaluation portion of this position will also conduct process evaluation, assist in data collection, management and reporting with regards to evaluations, and be responsible for the management of large complex databases used in the evaluation process. This position will assist department and program managers with their evaluations and research, performing various studies as directed by the Tribal Administrator.
---
More Info
---
Position: Grants & Projects Manager I
Department: A Grants and Projects Manager works with our organization's departments to identify new sources of funding, enhancing current funding models, and developing sustainable and effective programs all within a context of the Tribe's priorities to enhance sovereignty, revitalize cultural traditions, and practice sound, environmentally responsible economic and community development. Grants & Project Managers oversee grant writing and implementation efforts, documenting payments and expenditures, optimizing the grant administration process, overseeing fund-raising, preparing progress reports, ensuring compliance with grant regulations, reviewing grant proposals, managing grant databases, engaging with donor agencies, educating staff on policies, and preparing financial reports. Skills and expertise in successful grant management will aid our organization in serving the public by securing continuous funding, improving business opportunities through effective funding programs, and executing meaningful projects
---
---
More Info
---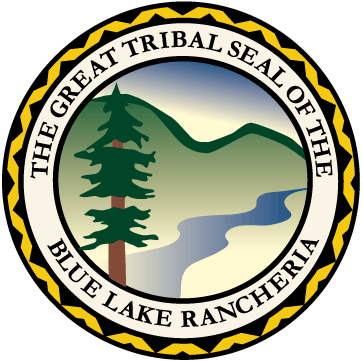 BLR Tribal
Government Office:
---
TEL: 707.668.5101
FAX: 707.668.4272
EMAIL: info@bluelakerancheria-nsn.gov
MAILING ADDRESS
(for U.S. Postal Service):
Blue Lake Rancheria
PO BOX 428
Blue Lake, CA 95525
OFFICE LOCATION &
PHYSICAL ADDRESS
(for FedEx, UPS):
Blue Lake Rancheria
1 Aee ye kwee Loop
Blue Lake, CA 95525