Blue Lake Rancheria Transit System is closing it's doors after 20+ years of transportation service to the Mad River Valley on
Monday, October 2nd, at 6pm PST.
We wish our ridership the best of luck in the future!
Bus Schedule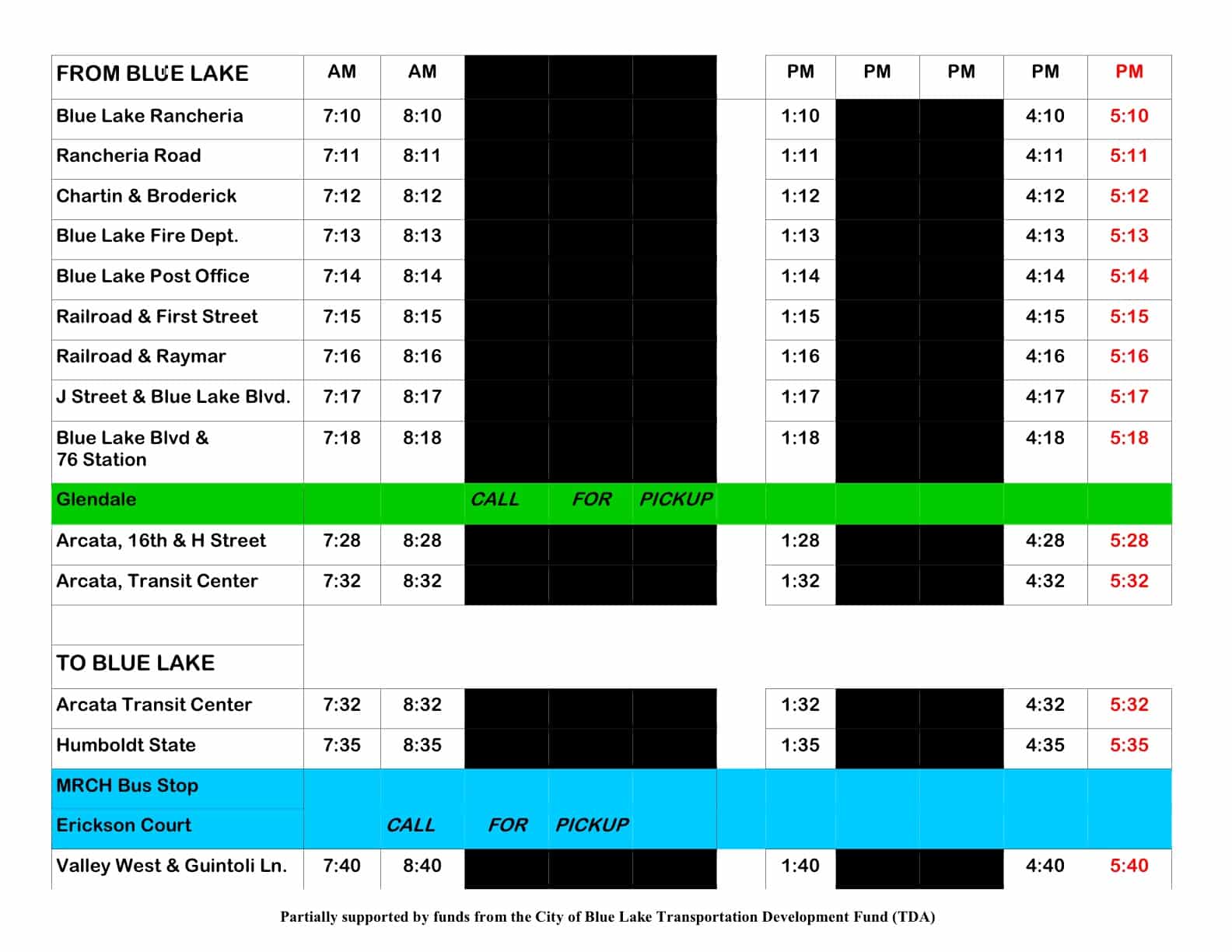 Blue Lake Rancheria Transit Service
Since 2000 the Rancheria has funded and operated a deviated-fixed route transit service system, Blue Lake Rancheria Transit System (BLRTS), to serve Rancheria riders as well as riders in Blue Lake, Arcata, McKinleyville and Eureka. Blue Lake Rancheria is the only tribe on the North Coast to operate a public transit system. BLRTS operates between 7:00 a.m. and 6:00 p.m. on weekdays, providing 16 trips per day and provides over 1,300 trips per month. The BLRTS serves two transit stops on the Rancheria, seven stops within the City of Blue Lake and one stop at Glendale and several flag stops are available along the route. BLRTS buses are equipped with ADA wheelchair lifts and to also carry bicycles, enabling multimodal transportation opportunities.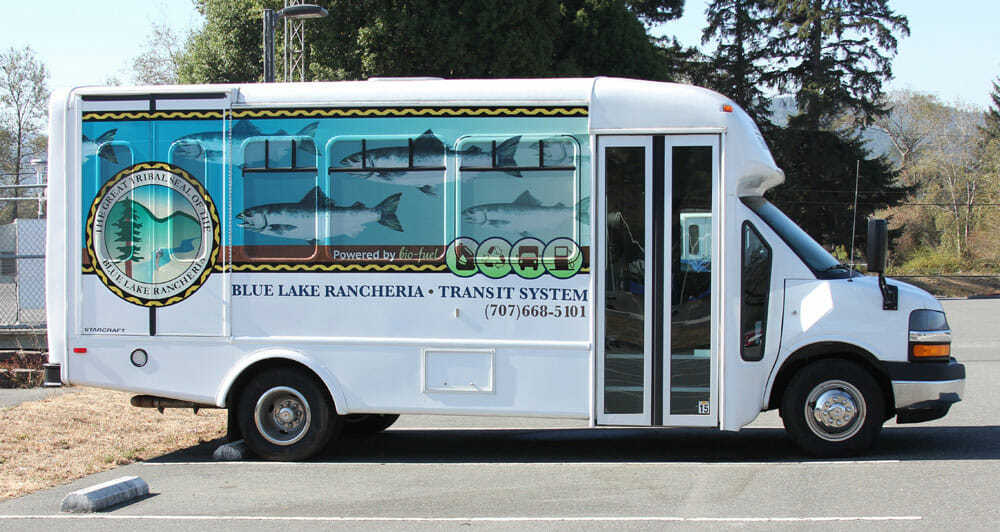 Blue Lake Rancheria is a member of the North Coast Tribal Transportation Commission, comprised of nine North Coast tribes, and coordinates on transportation issues unique to North Coast tribes.
Blue Lake Rancheria participates in regional transportation planning through the Humboldt County Association of Governments (HCAOG), the Regional Transportation Planning Agency (RTPA). Blue Lake Rancheria maintains representation on the HCAOG Technical Advisory Committee (TAC), Service Coordination Committee (SCC) and the Social Services Transportation Advisory Council (SSTAC)
Blue Lake Rancheria is a member of California Association for Coordinated Transportation (CALACT), the largest state transportation association in the United States".
---
Green Fuels
The Tribe manufactures biodiesel to fuel its public transit buses, using waste oil from its kitchens
Switching the transportation sector to low- and zero-carbon alternatives is essential for the health of humans and the environment, to improve transportation economics, and create jobs.
The BLR green commuter program and electric vehicle (EV) infrastructure for the tribal government fleet are both supported by the Tribe's microgrid, which uses a large percentage of solar power.
Electric Vehicles
In 2013 the Tribe began migrating its government fleet to electric vehicles (EV).
There are two Level 2 EV charging stations installed at BLR with more planned.
The Tribe is developing a green commute program for its employees.
The Tribe is exploring EV transit buses to serve part or all of its public transit services.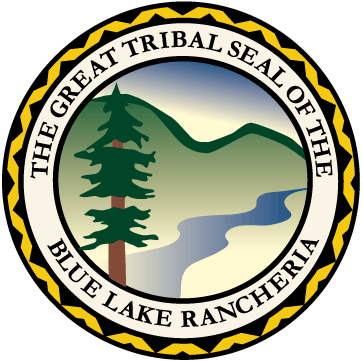 BLR Tribal
Government Office:
---
TEL: 707.668.5101
FAX: 707.668.4272
EMAIL: info@bluelakerancheria-nsn.gov
MAILING ADDRESS
(for U.S. Postal Service):
Blue Lake Rancheria
PO BOX 428
Blue Lake, CA 95525
OFFICE LOCATION &
PHYSICAL ADDRESS
(for FedEx, UPS):
Blue Lake Rancheria
1 Aiyekwee Loop
Blue Lake, CA 95525