Resiliency Training & Innovation Center (RTIC)

---
Unfortunately due to the current COVID-19 uptick in our local areas,
NEMBA Blue Lake Rancheria Cohort is
POSTPONED
until further notice. It is the plan to bring back the opportunity to Blue Lake, in early 2022, when able. The overall safety and health of students, host, and instructor staff is our highest priority.
Mission Statement:
Blue Lake Rancheria Resiliency Training & Innovation Center (RTIC) provides quality education and training that enable a diverse student population to achieve its educational goals. Programs are enhanced by developing and maintaining partnerships with business, industry, and the community. Staff are dedicated to working to serve the RTIC and the whole community.

The Resiliency Training & Innovation Center (RTIC) works to build capacity across these topics:
Emergency preparedness
Lifeline sectors (e.g., power, water, food, transportation, communication)
Community Planning and Capacity Building
Health and Social Services development and recovery
Natural and cultural resources development and recovery
Continuity of Operations
Clean energy skill sets (technology and operations)
Economic development and recovery
Infrastructure development and protection
STEAM education (Science, technology, engineering and math)
Other skill building (e.g., GIS, career readiness, environmental literacy, civic engagement activities)
---
---
Upcoming Courses
Hazardous Materials Training: First Responder Operational
---
Hazardous Materials Training: First Responder Operational Decontamination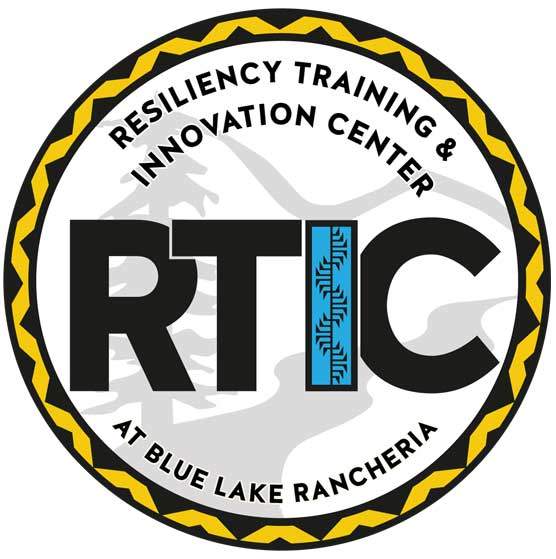 RTIC
---
TEL: 707.668.5101
EMAIL: rtic@bluelakerancheria-nsn.gov
MAILING ADDRESS
(for U.S. Postal Service):
Blue Lake Rancheria
PO BOX 428
Blue Lake, CA 95525
OFFICE LOCATION &
PHYSICAL ADDRESS
(for FedEx, UPS):
Blue Lake Rancheria
1 Aee ye kwee Loop
Blue Lake, CA 95525