Current Elected Leadership of the Blue Lake Rancheria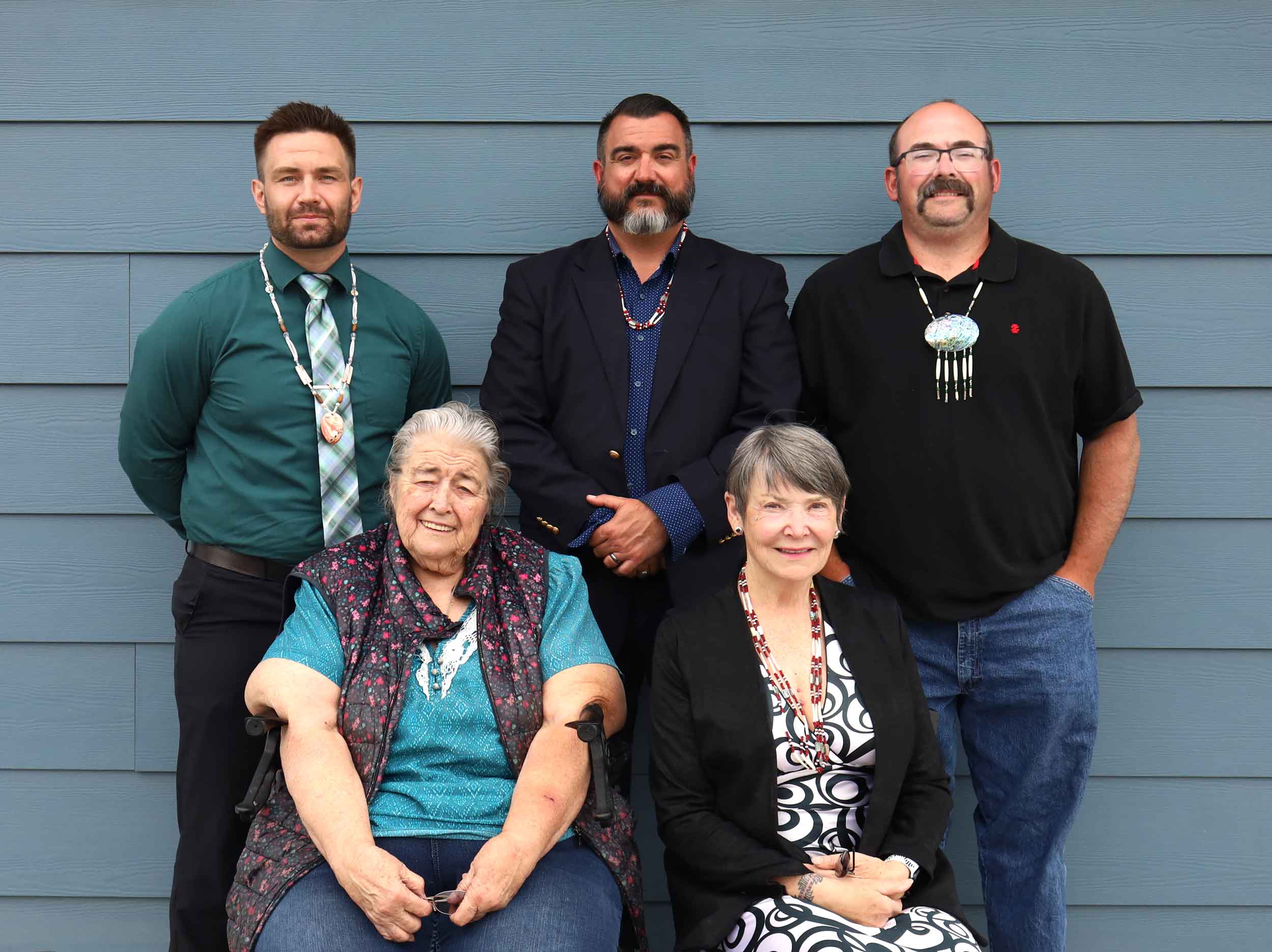 ---
Claudia Brundin, Chairperson
Arla Ramsey, Vice Chairperson
Michael Shackelford, Secretary/Treasurer
Jason Ramos, Councilmember
Zac Ramsey, Councilmember
---

Dating back to its formation in 1908, the Blue Lake Rancheria Tribe has been fortunate to have consistently strong, duly-elected leadership.
---
Claudia Brundin | Chairperson
Claudia Brundin is the Chairperson of the Blue Lake Rancheria Tribe, providing strong leadership that has spanned re-election over three decades. Her father, Oscar E. Brundin, also served as Chairperson in his day. Claudia steers the Tribe and the Business Council in the course of fulfilling governmental responsibilities. Passionate about effective government operations, Claudia serves on many civic committees and partners with many other organizations to improve the most important issues impacting Indian Country. Prior to serving the Tribe in elected office, Claudia's early career was in healthcare and hospitality operations. She worked at St. Joseph Health, Humboldt County, for over 30 years. Claudia's professional education is in business administration and she has spent the majority of her life on the Blue Lake Rancheria's tribal lands.
---
Arla Ramsey | Vice Chairperson
Arla Ramsey currently serves the Blue Lake Rancheria Tribe as its Vice Chairperson and Tribal Director of Economic Development. She serves as the Tribe's Police Commissioner and Fire Commissioner. Prior to assuming tribal government work full-time, Arla worked for the U.S. Forest Service for over nine years as a nature guide, fire-fighter, and heavy-equipment operator, among other responsibilities. Before entering the Forest Service, Arla spent several years reorganizing the Tribe following federal reinstatement. And prior to this reorganization work, for eight years Arla owned and operated a children's daycare business for community residents. In addition to these positions, Arla and former Chairperson Sylvia Daniels led the twenty-five year political and legal fight for successful reinstatement in 1983 of Blue Lake Rancheria as a federally-recognized tribe. Arla holds a variety of professional certifications, including: Pepperdine University, The Graziadio School of Business and Management: Transit/Paratransit Management Program; College of the Redwoods: Penal 832 / Firearms, and Tribal Court Law and Justice; The Falmouth Institute: Contracting Officer's Representative, Record Management, Tribal Self-Governance, Law for the Tribal Council, NAHASDA Training; Council Lodge Institute: Basic Indian Law; Training Services Association: Housing Construction Inspection and Cost Estimating; National Environmental Training Center for Small Communities: Assessing Wastewater Options; Bill Helmich Associates: Grants and Contracts Law and Management, Drug and Alcohol Testing, OMB Circulars: A-102, A-87, A133, Environmental Law for Tribes, Employee Rights and Labor Laws; Three Feathers Associates: Title VI Training and Technical Assistance, Management, Nutrition, Supportive Services; California Rural Indian Health Board, Inc.: Final rules for P.L. 93-638; California Specialized Training Institute: Hazardous Materials Course, First Responder Awareness; Rural Community Assistance Corp.: Creative Solutions: Moving Rural Communities into the 21st Century; Johnson Associates: Design and Development of Indirect Cost Proposals for Tribal Organizations; Pesticide Applicators Assoc.: Pesticide Applications; I.H.A. Management Systems: NAHASDA Grant Implementation (HUD); Development Consultants: Tribal Environment, Health, Safety & Natural Resources' Damages Issues; ICF Consulting, Sponsored by HUD: (Office of Native American Programs Training Institute Course) Native Economic Development Guidance and Empowerment. Arla is also a certified tribal judge, and experienced in mediation, arbitration, and interpretation of tribal law. In recognition of her nation-building efforts, Arla has received the Rotary Club's Paul Harris Humanitarian Award, National Campaign for the Wall of Tolerance award, California Clean Energy Hall of Fame 2020 Clean Energy Champion Award, among other accolades.
---
Jason Ramos | Councilmember
Jason Ramos is an elected member of the Blue Lake Rancheria's tribal business council, which is the tribal government's executive branch. In addition, he serves in the Chief Executive Officer role for the Blue Lake Casino and he is also the Tribal Administrator for the Blue Lake Rancheria. He has earned his Bachelor and Master of Science degrees in Kinesiology from Humboldt State University (HSU) and his Doctor of chiropractic degree from Palmer College of Chiropractic West.
At HSU, Jason studied ways to increase bone density to help prevent or reduce severity of osteoporosis. His research in use of creatine supplements with exercise in elderly populations showed promise and is the basis of further research.
To push for the advancement of the sciences, and get more youth involved in STEAM education, Jason has developed and led initiatives for more makerspace and workforce training that focuses on career-readiness. In his role as President of the Blue Lake Rancheria's Tribal Education Agency (TEA) Board of Education (BoE) he has created strategic partnerships to launch and maintain these programs over the long term.
Select Community Involvement
U.S. Department of Energy, Indian Country Energy and Infrastructure Working Group
North Coast Tribal Chairmen's Association, Tribal Representative
Humboldt State University President's Native American Advisory Council
Tribal-State of California Regulators Association, Committee Member
Blue Lake Education Foundation, Board Member
Humboldt State University Advancement Foundation, past Board Chair
National Indian Gaming Commission Technical Advisory Committee – past appointee
Select Recognition
DistribuTECH and PowerGrid International "Renewable Energy Project of the Year" 2018 (BLR)
FEMA "John D. Solomon Whole Community Preparedness Award" 2017 (BLR)
U.S. Marine Corps Designation as "Double Platinum Sponsor" Toys for Tots 2017 (BLR)
First Runner Up, Renewable Energy World/Power Engineering "Renewable Energy Project of 2017" (BLR)
Finalist, S&P Global Platts Energy Award "Commercial Application of the Year" 2017 (BLR)
Hospitality & Tourism Business of the Year, Arcata Chamber of Commerce 2017 (BLR)
White House and U.S. Dept. of Energy "Climate Action Champion" 2015-2016 (BLR)
Pacific Gas and Electric "Integration Award" 2014 (BLR)
Humboldt State University Kinesiology Endowment (for biomechanics/human performance laboratories)
---
Zac Ramsey | Councilmember
---
Michael Shackelford | Secretary/Treasurer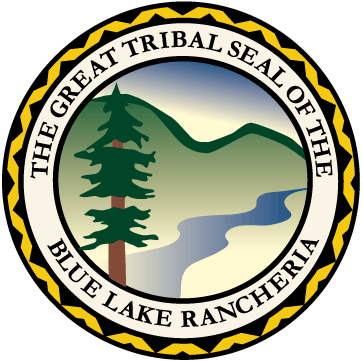 BLR Tribal
Government Office:
---
TEL: 707.668.5101
FAX: 707.668.4272
MAILING ADDRESS
(for U.S. Postal Service):
Blue Lake Rancheria
PO BOX 428
Blue Lake, CA 95525
OFFICE LOCATION &
PHYSICAL ADDRESS
(for FedEx, UPS):
Blue Lake Rancheria
1 Aiyekwee Loop
Blue Lake, CA 95525